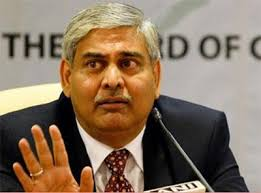 On 10 May 2016 Shashank Vyankatesh Manohar resigned as the President of BCCI.
• He also stepped down as the BCCI representative in the International Cricket Council and the Asian Cricket Council .
• He served as the president of the cricketing body from 25 September 2008 to 19 September 2011.
• He is holding the office of the president of the Vidarbha Cricket Association (VCA) who is one of the three full members in the state of Maharashtra.
• He is also referred to as Mr. Clean and is also known for his spotless track record and integrity in cricketing circles.
• Meanwhile in the Supreme Court, BCCI was questioned about their apprehensiveness to implement the Lodha Committee reforms.